The
sharp
cutting blades technology never comes in contact with skin.
6 times thicker
blades than in electrical trimmers don't pull the hairs. It
perfectly
cuts every unwanted hair with its
durable
rotating blades.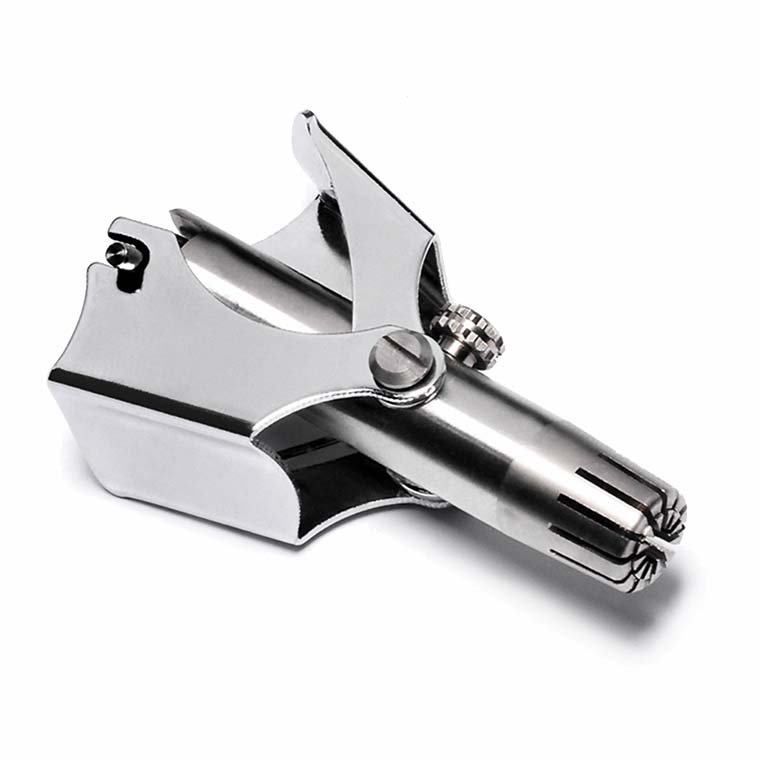 The whole product is built with the finest surgical-grade
stainless steel
that makes it incredibly
durable
and
long-lasting
, not getting dull. Also, it makes it waterproof and
easy
to keep it clean.
Swissklip 360 Nose hair trimmer is made to work anywhere. It does not require charging, or any kind of batteries. It is made to operate quietly from wherever it is the most convenient for you. Pressing your finger to the edge makes the mechanism rotate the blades to trap the hair. No more painful hair removal experience.
Swissklip Skin is designed with Nature and Simplicity in mind
"With the electric ones, I always had to clean the hair that got stuck in there and switch batteries often. But for this product, I am free from the batteries and I literally feel nothing when I use to cut it. "
"It works well and you can clean it easily with disassembling the product. Works best if you squeeze it to make a cut, not release it until you draw it out (otherwise it tends to catch some hairs). Here is a tip for you."
"This product is a real deal, let me tell you. Works just great and it is a solid product for the price you pay."
"I was skeptical at first, but I gave it a go, used it and came to write a review. I'm so happy with the product. Thanks! "
Works way better than the electric one
"I used to have this electric trimmer that barely worked. It took forever to get all the hair and it's such a small application. This manual trimmer works way better than the electric one and is way more compact."
These manual ones are fantastic!
"I couldn't stand the loud, high-pitched noise coming from my electric trimmer. I've owned a couple of different electric trimmers, and they're so loud that I had to switch."
I love this clipper so much!!
"This trimmer is BY FAR the best personal grooming device I've ever owned. The materials and construction are without parallel. Ease of use is off the charts. Results are amazing! It doesn't pinch or pull when you clip. Effortless is the best word I can think of – there is none of the obnoxious buzzing you get with electric clippers. I love this clipper so much I'm thinking about getting some to hand out at Christmas. I do have to figure out how to give someone a personal grooming device without offending them, though. Any ideas?"